Searching through the hatchery catalog and wondering what the best chicken hatchery in Massachusetts is?

Well, consider your search over! If you're from Massachusetts, it can be pretty difficult to find the best places to purchase chicks for flock expansion.

Much of the information out there is misleading. And even the seemingly trustworthy ones aren't detailed enough to aid decision-making.

That's why we've done all the dirty work for you – the research, inquiries, and all the nitty-gritty just to make things much easier for you.

From our list, you'll find the 4 best chicken hatcheries nearby for the best quality chicks and services.
At a glance
the 4 best chicken hatcheries in massachusetts
Open Gate Poultry is a family farm located at Westport, MA. They've been selling hatching eggs and chicks for 3 years. But, it's been a solid 5 years of growing different breeds of chickens.
Birds they raise include the Ameraucana, Easter Egger, Marans, Mosaic, Showgirl Bantam, Olive Egger, and Silkie Bantam.
Open Gate Poultry is a member of the Ameraucana Breeders Club, The Marans Club, and The Marans Chicken Club USA. So, they make sure to consider the standard of perfection and the temperament of the birds before using them as parent stock.
You can therefore trust that you're not just getting quality birds that conform to the Standard. But, you're also getting birds with ideal temperaments that'll make a great addition to your flock. What's more, Open Gate Poultry is NPIP-certified, so you don't have to worry about the health of your chickens.
Generally, Open Gate Poultry only supplies hatching eggs and chicks. Chicks are usually sold "straight-run" so you won't know for sure if they're male or female. You also have to buy a minimum of 12 eggs. But, with each dozen you order, they're gracious enough to add two bonus eggs from the same breed.
Still, while you're free to place an order for eggs, Open Gate Poultry doesn't ship chicks. So, you might have to pick them up.
Bear in mind that you have to purchase a minimum of 3 chicks. And it's advisable to pre-order in advance so they can hatch the exact breeds you want. Though they may have older chicks and birds available, they usually sell chicks that are 1 to 2 weeks old.
Pros
Diverse breeds
Relatively affordable
NPIP certified
Thoroughly sanitary conditions
Delivery of hatching eggs + 2 extra eggs
Refund when you cancel orders
Cons
Chicks available for pick-up only
You can't handle the chicks before you make a purchase
bottom line
Whether you're seasoned or just starting out, Open Gate Poultry is the one-stop shop for you. They've got it all!
Uberchic Ranch is a rather large farm located in Wilmington, MA. But, they're not your run-of-the-mill farmers.
They're a bunch of sophisticated farmers that have embraced modernization with impressive gusto.
So, rather than picture a place with creaky structures and muddy surroundings, picture an idyllic setting with state-of-the-art technology, including the use of solar power to reduce production costs.
But, the most special thing about Uberchic Ranch is their collection of the most beautiful, rarest chicken breeds you can find in the United States.
All their rare breeds are excellent dual-purpose breeds that will make amazing backyard pets because of their wonderful temperaments. Did I already mention how beautiful they look? You just have to scurry to the website to confirm for yourself their delightful colors and patterns.
The three rare breeds (which have all been selectively bred) so you only get the maximum number of eggs all year round include the Bielefelders and Niederrheiners and Barnevelders.
They're also large birds. So, you can raise them for meat production too! For these breeds, Uberchic Ranch will supply chicks, pullets, cockerels, and chickens. Chicks are sold either "straight-run" or sexed.
They also sell a variety of relatively common breeds including the Ameraucana, Cuckoo Maran, Orpington, and Dominique. But, they sell these as 1 to 3-month-old juveniles at a starting rate of $12.00.
While you may choose to pick up your birds if your location permits, they're also open to shipping them to you.
pros
Source of quality rare breeds
Day-old chicks are sexed
Local pick-up or shipping
cons
Bottom line
If you're after chicks from a hatchery with an ultra-modern setup and sophisticated way of doing things, then look no further than Uberchic Ranch
Sheeran Farms is located at Brimfield, MA. As fourth-generation farmers specializing in the production of Silkies, you can trust that you're getting nothing but superb, all-around Silkies from them.
Whether you want one as a family pet, for shows, or breeding, they've got you covered.
All their Silkies are free-range and are fed with a diet free of antibiotic residues. That way, in the future, they're not prone to developing strains of bacteria that can resist antibiotics.
The Silkies are Bantam-sized and you can purchase them in both bearded and non-bearded varieties. Colors also range from white, black, partridge, splash, gray, and beige.
At the moment, they're taking orders and receiving deposits for chicks/hens for March 2022. If you've facilities in place to cater for your Silkies in the winter though, they may be willing to sell right away.
Prices range from $5.00 to $10.00 for an individual chick. Hens, however, cost between $75.00 and $100.00.
For chicks, their prices depend on the available quantity. For hens, it depends on the puffiness of their heads and plumage color. Sheeran Farms is also your one-stop shop for all other accessories including feed, oyster shells, and shavings necessary to make life comfortable for your Silkies.
Pros
Only raise female Silkies
Antibiotic-free diet for birds
Wide color range
cons
Only sell Silkies
Not NPIP-certified
bottom line
All you ever wanted are Silkies? Trust Sheeran Farms to come in clutch for you. Bear in mind, though, that they only supply chicks/chickens that are female.
The Goose And Hen is a family-run farm located in Harvard, MA. Interestingly, the owner is only 15 years old!
But, don't let his age fool you. He has been nurturing his experience since the second grade. And with the help of his parents and siblings, he now raises so many chicken breeds.
Today, The Goose And Hen sells Rhode Island Reds, Black Australorps, Leghorns, Buff Orpingtons, and Delawares.
The chickens are mostly free-range. But, the farm makes sure to supplement their diet with high-quality layer feed.
The Goose And Hen generally sells chicks and hatching eggs. They sell eggs by the dozen. What's more, they cost just $24.00 in that quantity.
Chicks – even those sexed are sold for less than $5.00 for one. And it's why we think The Goose And Hen is the most affordable out of the lot. Even better is the fact that if you end up with a bird you aren't pleased with, you may return it for a refund!
Right now, though, the farm isn't NPIP-certified.
Pros
Raises diverse breeds
Refunds if you're dissatisfied
Sells sexed chicks
Affordable
Cons
Eggs and chicks may not be available all year round
bottom line
If you're on a tight budget, The Goose And Hen would be an ideal place to start with.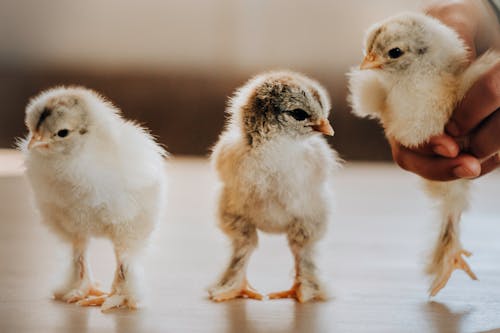 What to know before choosing a hatchery in massachusetts
Have you been able to work out from our list which one for you is the best hatchery in Massachusetts?
To make the selection process easier for you, here are a couple of things you might want to consider before hitting a hatchery up.
Settle on the breed you want to raise
Breeds come in all forms of colors, shapes, sizes and the list goes on and on. It all comes down to what you really want.
Are you looking for larger birds? Are you looking for dual-purpose birds? Is your main purpose meat production? Are there specific traits you're looking for? Do you want a rare breed? Or do you just want eggs?
You have to ask yourself these questions. In essence, you should know what you want and don't want. Make a list of that.
Then, try and get as much information as possible on various breeds, compare them and check whether they conform to what you want.
Doing your research will make it easier to know which hatchery to choose. You'll know largely whether you two are a good fit if they have exactly what you want.
Know the cost per chick
All hatcheries don't have the same pricing policy. And in many cases, the price of chicks will depend on the demand of the birds, their rarity, color, and sex.
For instance, female chicks that have been sexed will cost more than "straight-run" chicks of a breed that's an egg-laying machine. An uncommon breed will also cost more than one that's not.
Generally, though, the more chicks you buy, the less the cost per bird. The inverse is also true. Some hatcheries have a policy where they won't ship below a certain minimum – usually 3 chicks. They do this to ensure a high survival rate of the birds in the course of shipping.
Price catalogs will mostly be found on the hatchery's website. In addition to shipping costs, the cost per chick will reflect in the final price. So, you should keep it in mind when making your selection.
Consider the cost of shipping
If the birds are available for local pick-up, you should, by all means, use that option if you can. That way, you can avoid all the stress that comes with shipping.
If you're too far away, shipping may be inevitable. Shipping costs may vary from seller to seller. It may depend on the overall number of packages you're ordering. In addition to this, long-distance travel may also increase your costs.
But, you should always do your calculations well to get the best value for your money. Some hatcheries add the cost of shipping to the price per bird irrespective of whether you want them shipped or not.
So, even though you might easily be able to pick up the birds yourself, your total cost might end up being more than if you got them shipped to you from another hatchery.
If the shipping cost is available, you should try and add it to the total cost of the birds you're purchasing to find out the cost per bird.
If the shipping cost isn't available, it's probably because it's part of the total cost. Still, do well to calculate the cost per bird and weigh your options. It may surprise you how much money you'd save despite having the packages shipped.
Final thoughts
Your needs matter. And it's why we think the above-listed chicken hatcheries are the best in Massachusetts to sort these needs out.
They all offer various kinds of breeds. And every day, they put in so much hard work to ensure people like yourself end up raising flocks of the very highest quality.
So, whether you want to raise birds for their eggs, just their meat, or simply want a backyard pet, by all means, get in touch with them today!